Wyvern
[[]]
The "True" Wyverns from Monster Hunter 3.

Intelligence

Semi-Sentient

Body Structure

Muscular and Bulky

First Appearance

Unknown

Location

Hidden Locations and Islands (Possibly really did exist in Prehistoric North America)

Habitat

Mountains and Tropical Rainforests

Armour Style

Armoured Scales

Hair Color(s)

n/a

Feather Color(s)

n/a

Skin Color(s)

Varies

Eye Color(s)

Varies

Height

6 meters

Length

15 meters

Wingspan

18 meters

Weight

3 Tons

Neutral

Wind and Fire

Birth Style
Wyverns are the third most famous kind of dragon next to Wyrms and Normal Dragons.
Diet
[
]
Their diet consists of any animal smaller than them (excluding of course Wyvern babies and eggs, and occasionally Humans) big man
Predators
[
]
None except Dragon Kings.
Description
[
]
A dragon which looks like the Normal Dragon sans forelegs and standing in a bipedal stance all the time.
Pokémon
[
]
Wyverns have many abilities especially since they're Dragons.
Flight: All Wyverns can fly using their only 2 wings.
Diamond poison tail: Ability to have a Sharp tail that can inject poison
Fire Breathing: An ability found in almost all dragons that includes Wyverns to breath Fire.
Aerokinesis: The ability to control Air and Wind by will.
Enhanced Bite: Wyverns have a bite strong enough to break through solid rock and has indestructable teeth and can bite without ever letting go until they choose to let go.
Claw Retraction: The ability found in Wyverns to retract their talons like a cat.
Vemomous Bite: Some Wyverns tend to have a bite with poison that is like that of a snake.
Wyvern Stats
[
]
Possible Real Wyvern Stats
[
]
Wyvern Appearances
[
]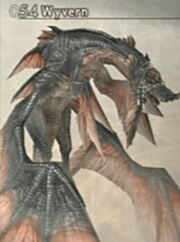 see List of Lesser Dragons by type.
Link
[
]
List of Dragon Stats

List of Ambiguosly Fictional Creature Stats
Subspecies
[
]
Related Creatures
[
]
Bakunawa

Cuélebre

Winged Serpent

Kranygos
↑
List of Dragon Stats
↑
List of Ambiguosly Fictional Creature Stats